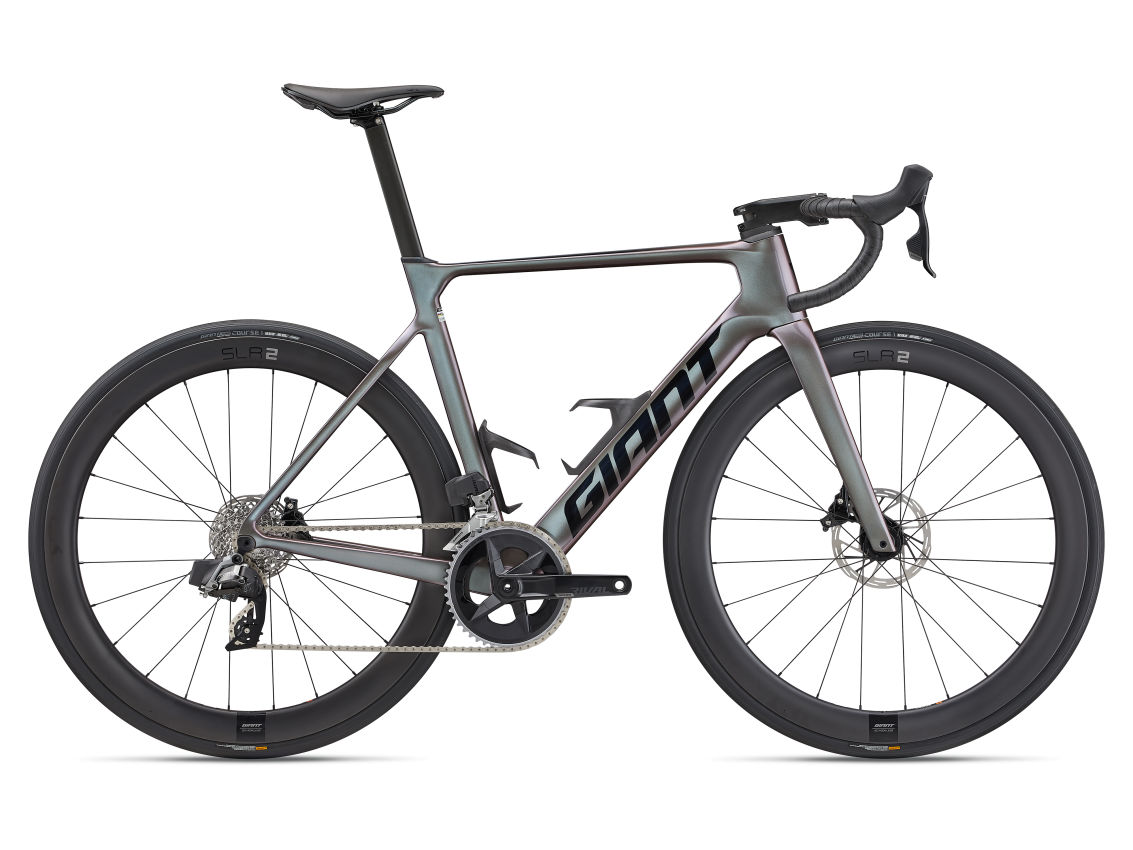 Giant Propel advanced 1 | 2023
Quick Overview
HIGHLIGHTS OF THE PROPEL ADVANCED AERO BIKE
Progettata con la tecnologia AeroSystem Shaping e materiale composito di qualità avanzata, la nuovissima Propel Advanced combina prestazioni aerodinamiche comprovate e uno dei telai più leggeri della sua categoria. Il nuovo passaggio dei cavi attraverso l'attacco manubrio e il tubo sterzo rende facile e veloce la regolazione del posizionamento. Il reggisella Vector in composito, leggero e facilmente regolabile, riduce ulteriormente la resistenza.
Descrizione
TaglieXS, S, M, M/L, L, XL
ColorazioniOrion Nebula
TelaioAdvanced-Grade Composite, disc
ForcellaAdvanced-Grade Composite, full-composite OverDrive Aero steerer, disc
AmmortizzatoreN/A
ManubrioGiant Contact SL Aero XS:40cm, S:40cm, M:42cm, M/L:42cm, L:44cm, XL:44cm
ManopoleStratus Lite 2.0
Attacco manubrioGiant Contact SL Aero, OverDrive Aero XS:80mm, S:90mm, M:100mm, M/L:110mm, L:110mm, XL:120mm
ReggisellaGiant Vector, composite, -5/+15mm offset
SellaGiant Fleet SL
PedaliN/A
Leve del cambioSRAM Rival eTap AXS
Deragliatore AnterioreSRAM Rival eTap AXS
Deragliatore PosterioreSRAM Rival eTap AXS
FreniSRAM Rival eTap AXS hydraulic, SRAM PaceLine rotors [F]160mm, [R]140mm
Comandi frenoSRAM Rival eTap AXS hydraulic
Pacco pignoniSRAM Rival, 12-speed, 10×30
CatenaSRAM Rival D1
GuarnituraSRAM Rival D1 DUB, 35/48 XS:170mm, S:170mm, M:172.5mm, M/L:172.5mm, L:175mm, XL:175mm
Movimento centraleSRAM DUB, press fit
CerchiGiant SLR 2 50 Carbon Disc WheelSystem, [F]50mm, [R]50mm
Mozzi[F] Giant alloy, CenterLock, 12mm thru-axle, [R] Giant alloy, pawl driver(3-pawl 30t), CenterLock, 12mm thru-axle
RaggiSAPIM Sprint
CopertureGiant Gavia Course 1, tubeless,700x25c (28mm), folding
Extracomputer mount, water bottle cages, tubeless prepared, 30mm max tire size
PesoQuanto pesa una bicicletta? E' una domanda che ci viene posta spesso. Non ci sono standard produttivi capaci di rispondere con esattezza dando indicazione sul peso delle biciclette. Esistono variazioni di peso in base alla taglia, alla composizione del telaio, alle finiture e alla componentistica. Giant ritiene che il consumatore finale debba informarsi direttamente dal suo Rivenditore Autorizzato di fiducia. Solo così saprà qual è il peso reale della sua bicicletta.
Informazioni aggiuntive
| | |
| --- | --- |
| Misura | XS, S, M, ML, L, XL |
| Collezione | |